The Game Reserve Hvězda was established by Ferdinand I Habsburg in 1534. He purchased the forest called Malejov from the Břevnov Monastery and used it for the founding of the Royal Game Reserve. The Game Reserve, established for hunting sports of the lords, was originally fenced by means of a slat fence yet the game was able to escape and make damage to the nearby gardens and vineyards and thus a couple-kilometre-long enclosing wall was built, which had two gates – the Břevnov's Gate and the Liboc's Gate (nowadays, there are three gates to the Game Reserve).
In 1556 Ferdinand of Tyrol let build a summer palace according to his own project design in the form of six- star in the middle of the Game Reserve.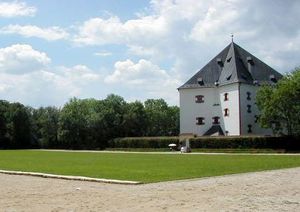 The Game Reserve was the ideal place for foreign troops to settle camps there. This happened for the first time in 1608 and three years later Passau troops had their camp here. The most important military event, which occurred in this location, was undoubtedly the Battle at Bílá Hora (White Mountain) in 1620 which the troops of the Bohemian Estates lost to the armada of Austrian Emperor. In 1636 a powerful stronghold was constructed and armed with cannons atop the White Mountain to halt the advancement of Swedish troops. Troops set their camp in Hvězda also in the course of the Thirty-Year War. Last time the troops of Fridrich II were having their base here in 1757 during the Seven-Year War when the soldiers almost clear cut the whole Game Reserve area.
In the Game Reserve game was bred for the hunting sport of Kings of Bohemia till the time of Empress Maria-Theresa. Emperor Joseph I turned the Summer Palace into a powder storage, which it served till the end of 18th century. At the beginning of 19th century the Game Reserve was changed into a nature park and over some time it became a popular place for trip making among the Prague inhabitants. The Game Reserve has been used for recreational purposes and various cultural as well as sports events have been arranged there.
At present the Game Reserve has the form of an irregular rectangle, two thirds of the area are on a plain, which is cut through by three beams of roads. The vast forest growth makes home to many rare animals. Nowadays, the Game Reserve is used, in economic terms, for random felling connected to the new plantation.
In 2005 the reconstruction of the floorscape in front of the Summer Palace was completed. At present, a huge reconstruction of the Reserve wall has been undergoing, the first stage thereof was started as early as in 1988.
In May 2005 the construction of a new lake was completed. The lake was established on the location of a historic lake, which vanished in the course of 17th century.